Boiled fish are usually made from fresh grass carp, bean sprouts, chili peppers and other ingredients. "Oil is not greasy, spicy and not dry, hemp and not bitter, fleshy slippery" is its characteristics.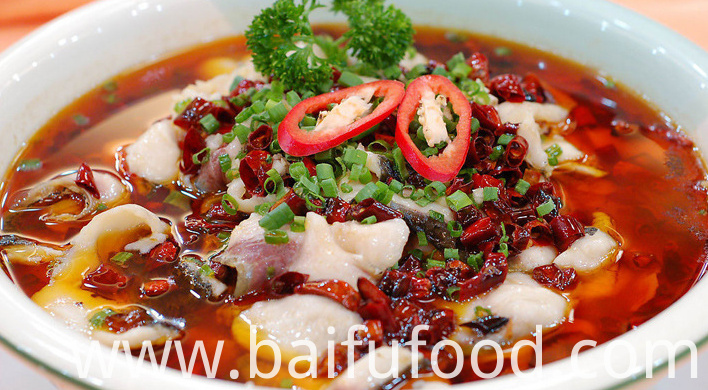 Take the substrate home for free and help you pull up the taste of the restaurant!
Step 1: Wash about 1000 grams of fish abdominal breakage, cut into slices or blocks into containers, add pickled fish bags with 10 grams of cooking wine or a small amount of liquor to grasp and use.
Step 2: domestic addition of water (better soup) 700 grams Add seasoning bag (170 grams) after boiling, add the prepared fillet or block, cook for 3-5 minutes, fry into a bowl, wrap the fish on the surface of the fish.
Step3: Wash the pot on fire, put vegetable oil 150 grams to eight mature, oil hot smoke when the pot poured on the fish in the bowl, you can eat.
Value efficacy
Grass carp is rich in unsaturated fatty acids, beneficial to blood circulation, is a good food for cardiovascular patients. Contains rich selenium elements, often eat anti-aging, facial effects, but also have a certain role in the prevention and treatment of tumors.
In addition, grass carp with warm stomach and middle and flat liver to remove the wind, cure Bi, malaria, the effect of the eye, the main treatment of false labor, wind deficiency headache, liver hyperthyroidism, hypertension, headache, long-malaria.
Bean sprouts are rich in vitamins and can prevent and treat vitamin B2 deficiency. Contains vitamin E can protect the skin and capillaries, prevent arteriosclerosis, prevention and treatment of senile hypertension. Vitamin C is a beauty food. Often eat soybean buds can nourish hair, so that hair to maintain black and bright, facial freckles have a better dilution effect, for young people's growth and development, prevention of anemia and other benefits, as well as brain, anti-fatigue, anti-cancer, prevent gingival bleeding, cardiovascular sclerosis and low cholesterol and other effects.
Applicable to the crowd: commuters, computer families, smokers, young and old are appropriate.
Edible tips: Chongqing city, Liangjiang Hui, all over to fight. BA people's Bohemian and ingenuity created a series of [River and lake dishes] famous throughout the country. Spicy fish is a model of [Shang taste, good spice], this product [spicy boiled fish] for the best seasoning, by the famous teacher reconciliation, red Fresh fragrance, happy appetites, long aftertaste, especially [River and lake cuisine] color.
Looking for ideal Spicy Boiled Fish Manufacturer & supplier ? We have a wide selection at great prices to help you get creative. All the Spicy
Boiled Fish Seasoning
are quality guaranteed. We are China Origin Factory of Boiled Fish Marinade. If you have any question, please feel free to contact us.
Product Categories : Fish Seasoning